20 Gallon Syrup Kettle Fire Pit (Gas Compatible)
$799.99
DIY Installation! It's easy!
DESCRIPTION
Enjoy the benefits of a warm, cozy fire without all the smoke! Goldens' Cast Iron now offers a new GAS-compatible syrup kettle fire pit! It is pre-cast with a 12″ hole in the bottom center to allow for a gas line and control panel. Cannot be used a s syrup kettle. We also offer a regulation GAS-compatible laser-cut fire pit stand that will allow you to install your gas control panel for easy access. Glass, burner, and tank sold separately. Made in the USA!
SPECIFICATIONS
Specifications
---
Made in the USA. We produce all Goldens' Cast Iron products at our foundry and machine shops in Columbus and Cordele, Georgia.
Durable American Made 11/16″ thick industrial grade cast iron
Large, deep bowl to hold a round, flat pan insert.
Weather-resistant black protective finish.
12″ hole to allow for rain to drain, for a gas line, or for the addition of a water feature
360 degrees of warmth and seating area for family and friends!
Great for individual or tiered cascading millstone fountain.
20 Gallon Gas-Compatible Fire Pit Specs:
Diameter (External Bowl) – 33.75″
Diameter (Internal Bowl) – 28.25″
Height (Fire Pit only) – 12″
Height (w/Gas Laser Stand) – 17.93″
Thickness – 11/16″
Weight – 140 lbs.
Pre-cut Hole (bottom-center) – 12″
Gas-Compatible Laser Stand Specs:
Height (stand only) – 12″
Height ( w/Gas Fire Pit) – 17.93″
Width (Diameter) 24.25″
Thickness – 1/8″
Weight – 28 lbs.
Quality American Steel
Fits 20 and 30 gal sizes!
PENTA 24 FLAT ROUND INSERT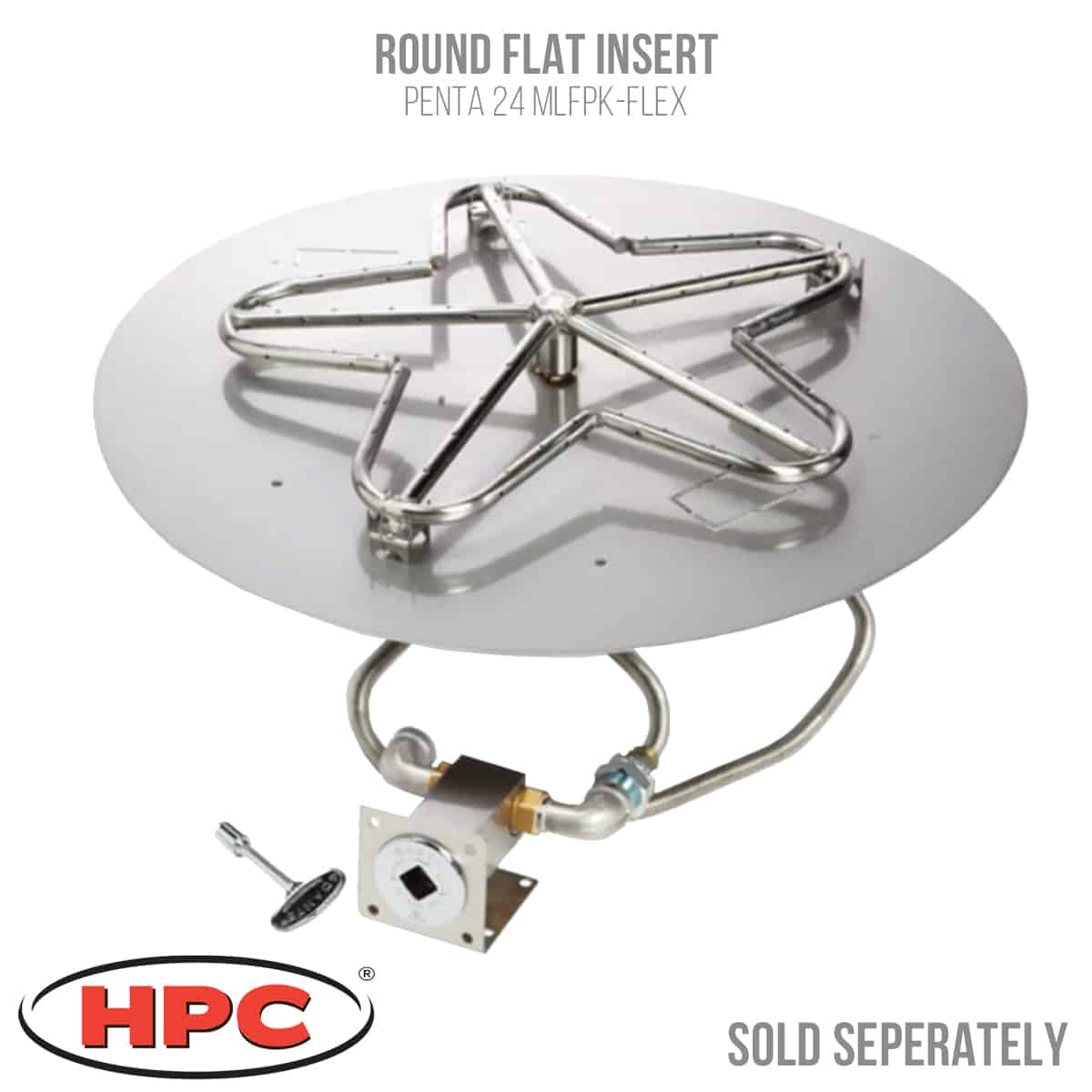 https://hpcfire.com/product/round-flat-inserts/
Round Flat Insert 24″:
This CSA Certified (except Non-Certified Category) Round Flat Fire Pit Insert
Description:
Fully Assembled, Commercial Grade, Certified Inserts (except Non-Certified units)
An HPC Original – this stainless steel, flat pan design was launched in 2004… and today is still our most popular flat pan style.
Benefits:
Economical flat design. Meant for a recess mount within an enclosure.
Made of #304, 18 gauge Stainless Steel
Raised hub burner for water prevention
Welded gas fitting for strength
Weep holes for drainage
Lifetime Warranty on burners
SMALL TANK KIT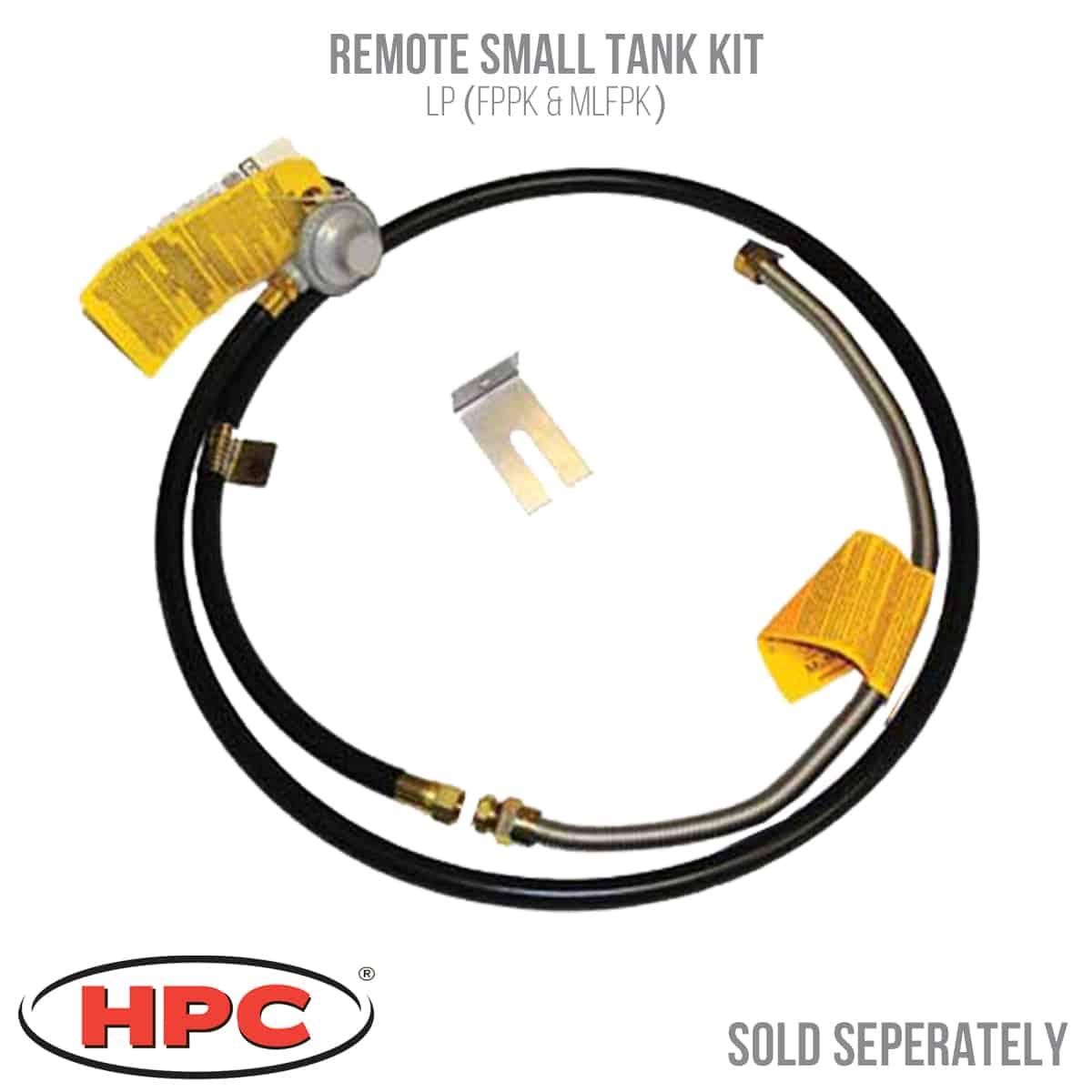 https://hpcfire.com/product/replacement-remote-small-tank-kit-lp-fppk-mlfpk/
Replacement Remote Small Tank Kit – LP (FPPK & MLFPK):
This CSA Certified (except Non-Certified Category)
Description:
This kit is for use with CSA certified FPPK and MLFPK fire pit models less than 90k Btu- see fire pit insert section for approved models. The kits includes a 90-degree regulator with 48" hose, 24" Flex Line, small tank L-Bracket and fittings for FPPK or MLFPK connection.
For use with CSA Certified FPPK & MLFPK fire pit inserts only
FIRE PIT GLASS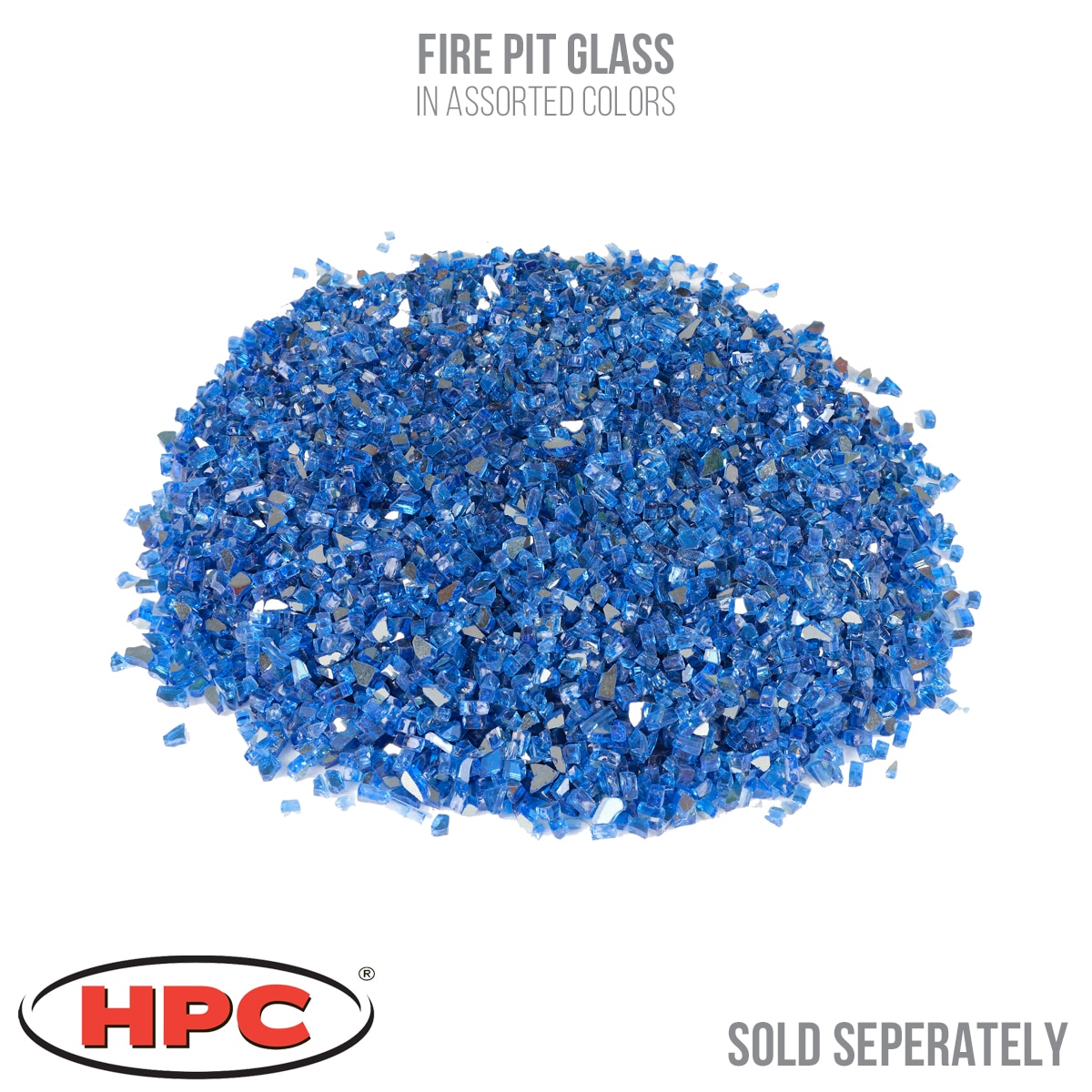 https://hpcfire.com/product/fire-pit-glass/
Fire Pit Glass:
For CSA Certified (except Non-Certified Category) Burners
Description:
Fire Pit Glass can enhance and gas fire pit, inside or out. Our Fire Glass has a reflective surface that bends the light produced by the fire pit or fireplace into a hypnotizing effect.
Decorative Fire Glass is priced per pound.
Any color: 10 lb. minimum order, 10 lb. increments.
SHIPPING
NOTE: Be sure to include complete shipping address and phone number to assure accurate and prompt delivery. All sales subject to appropriate sales tax. Once your cooker has been delivered, inspect it upon receipt. Your Cooker will ship in a Goldens' Cast Iron box on a pallet. Do not accept delivery if your order is not in a box and/or if you see any damage on the exterior of the cooker.
Work out. Grill out. Chill out. Goldens' Cast Iron offers quality American-made cast iron kamados, syrup kettle fire pits, kettlebells and dumbbells that last for generations! Welcome to the Iron Age!