Why Cast Iron?
Durable for generations. Food tastes amazing.
Goldens' Cast Iron award-winning kamado grill is skillfully engineered for durability and superior performance. The cast iron top, bottom, grates, and single-piece firebox make this an outdoor grill that will last. It is mounted to a hand crafted steel frame cart with cast iron wheels. You can't beat the durability and delicious "flavorability" of American-made Goldens' Cast Iron that lasts for generations! It may not be the first grill you ever buy, but it will be the last.
Specifications
Weight
Height
Width
Depth
Cooker
334 lbs
30.25″
22.5″
29.75″
Cart
126 lbs
31.5″
66″
27.25″
Combined
460 lbs
47.0″
66″
29.75″
Cooking Surface : 20.5″
Why is a cast iron kamado better than ceramic?
Superior construction
An American-made kamado grill manufactured by the same complex process used to build massive industrial cast iron parts for national and international companies. We have nearly 140 years of experience.
Increased Durability
Cast iron provides the highest levels of crack and shock resistance.
Superior Cooking Material
Cast iron's radiant and thermal properties provide even heating and precise temperature control. Everyone knows nothing tastes as good as food cooked in grandma's cast iron skillet.
All-Weather High-Temperature Powder Coat Finish
Weather resistant thermoset powder coat finish. Prevents rusting and weathering effects.
Integrated Hinge
Precision hinge mechanism ensures top and bottom alignment. Precision cast integrated hinge offers bandless design, closing on a single axle for a perfect seal every time. Other kamado grills require band and hinge maintenance over time to correct lid misalignment.
Dual-Disc Cast
Iron Top Vent Offers accurate temperature control – low and slow or sear.
Stainless Steel Intake
Allows accurate temperature control. Makes ash removal and clean up easy.
Thermometer
Stainless steel full temp range thermometer ±1% accuracy.
A Single-Piece Firebox
The more pieces you have, the more problems you have. Our firebox is one piece, solid iron. Strong. Stable. Durable cast iron.
Trex® Composite Shelving
Weather-resistant shelves are perfect for food prep. Eco-friendly blend of 95% recycled wood and plastic film. Stain resistant and durable for outdoor grilling.
Searing Plate
Used as a flat grilling and searing surface or as a heat deflector for smoking.
Two Tiered Cooking
Reversible cast iron half grates give you the ability to choose both the distance to the fire as well as the width of the cooking surface. In the lower position, the grates provide a wide cooking surface for beautiful grill marks with each sear. The upper position is ideal for smoking and grilling. The purchase of two additional grates adds a tiered-cooking option to your Cooker – perfect for smoking multiple racks of ribs at a time!
Cast Iron Grates
Variable height grates heat up quicker and retain heat better.
Heavy Duty Cart
Holds grill securely and offers mobility.
Cast Iron Wheels
Sturdy construction provides support and easy maneuvering.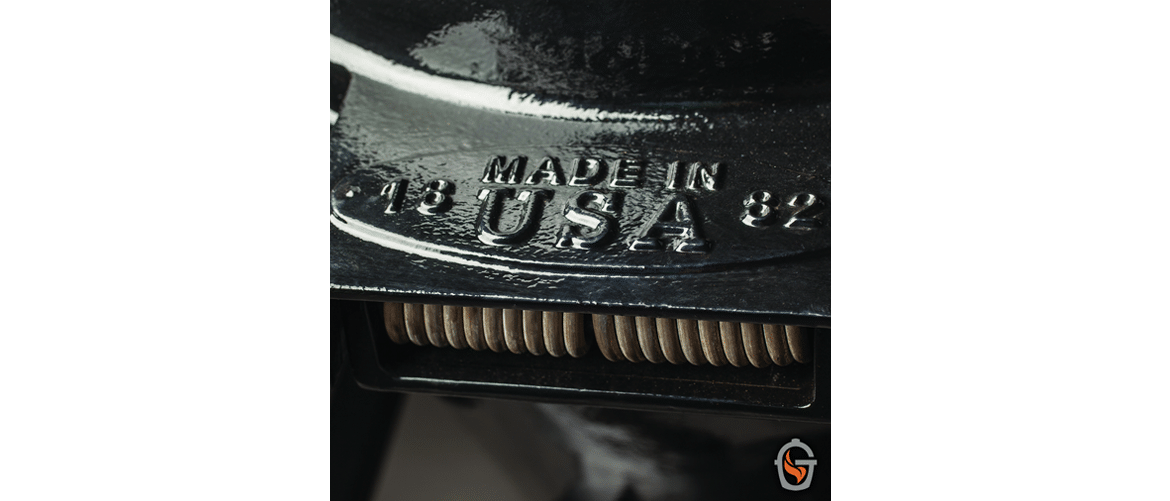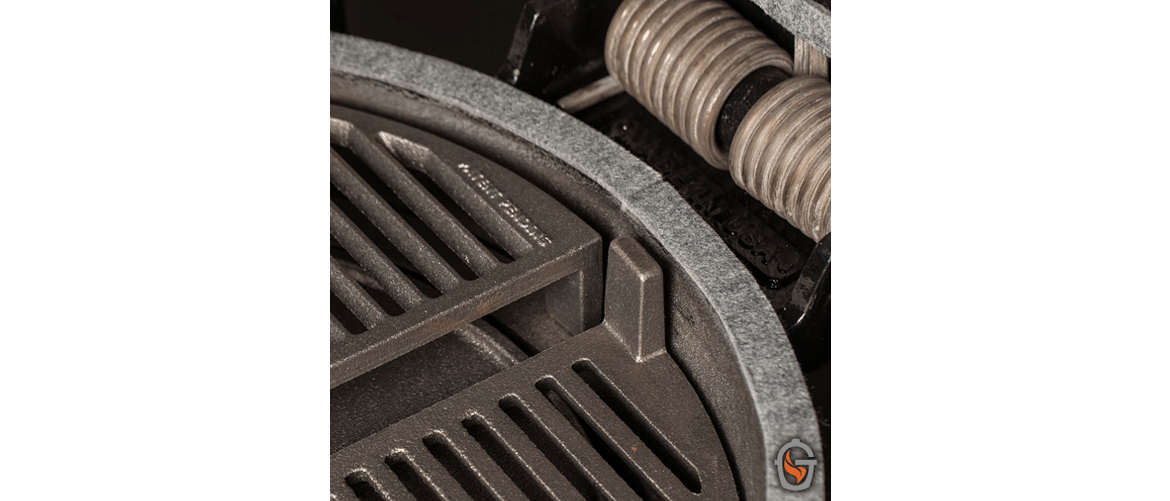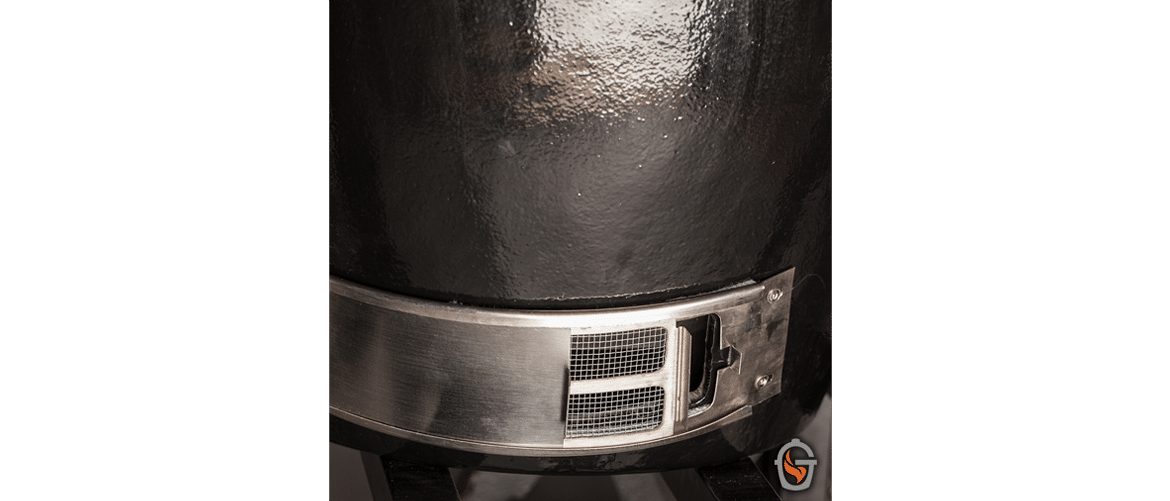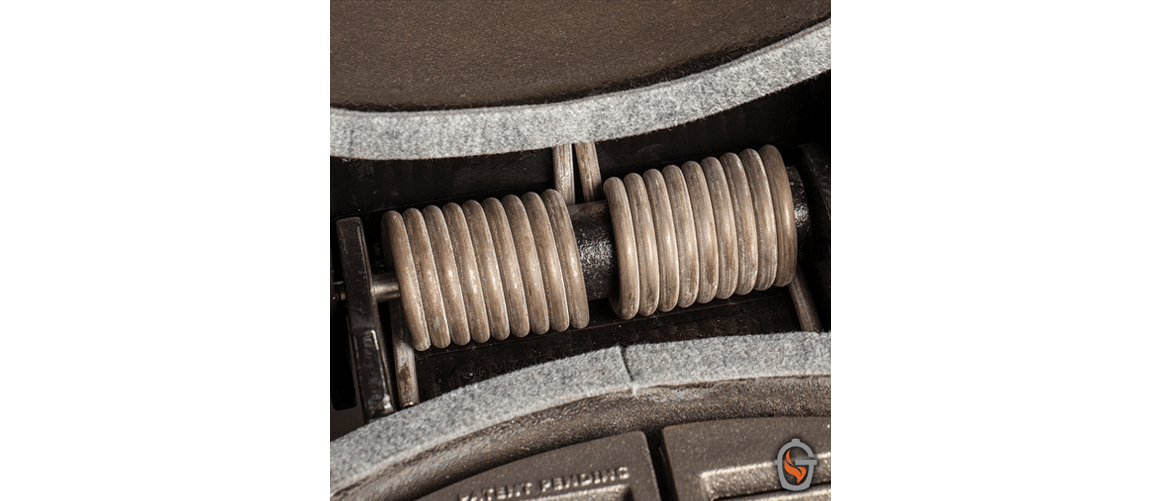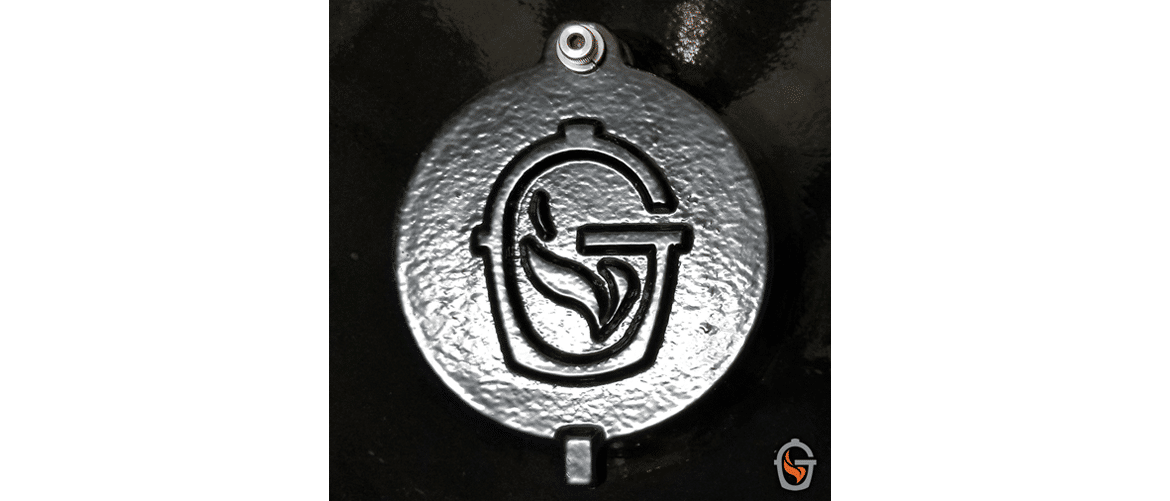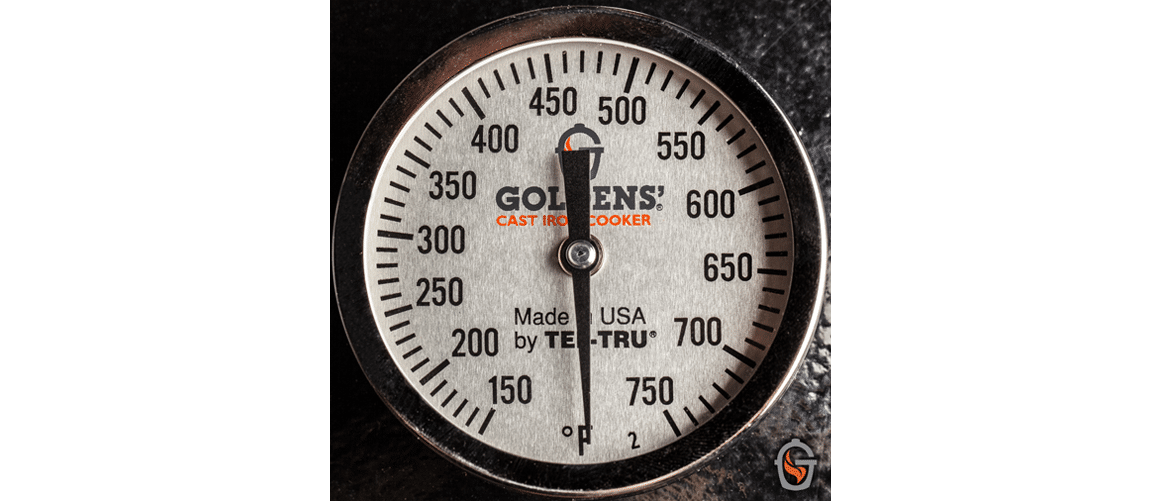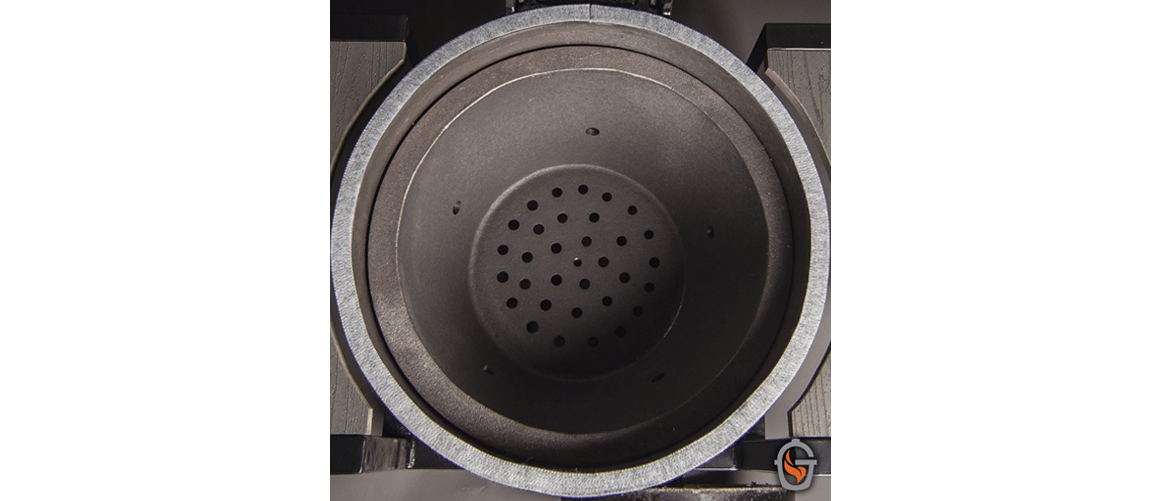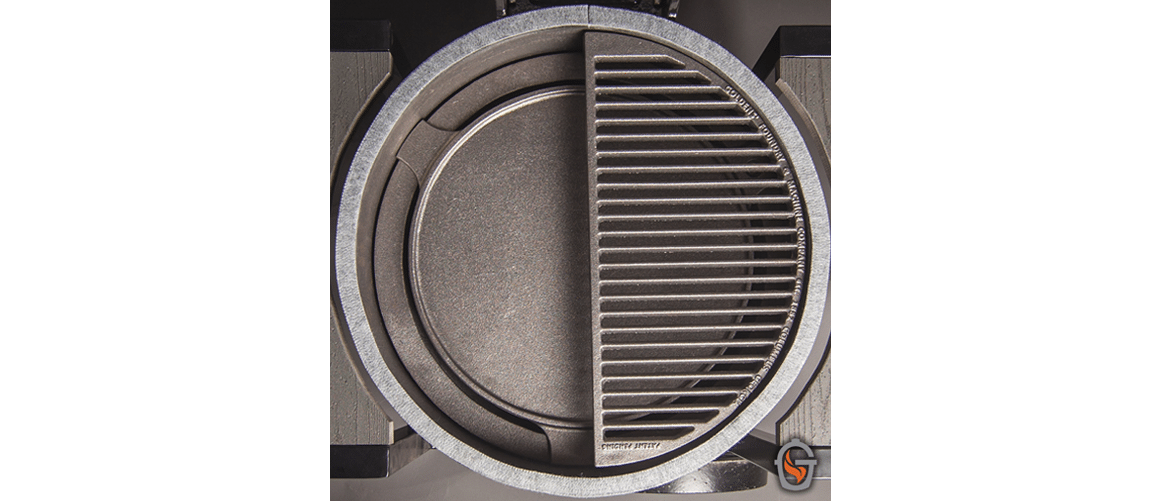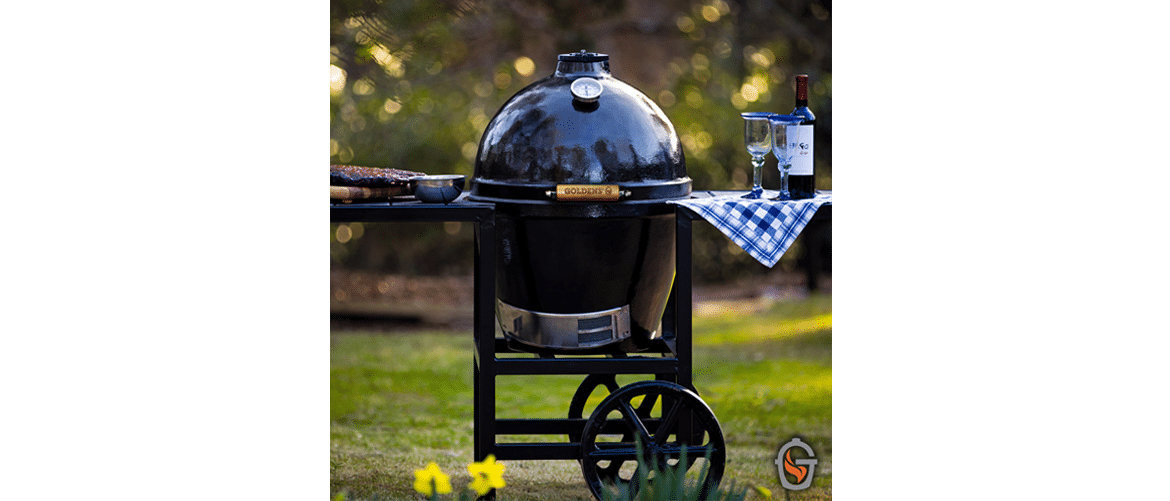 Goldens' Philosophy
The Goldens' Cast Iron Kamado Grill and Cooker is built on two beliefs: First, as a 5th generation family business, products should be built to last, just like our company; and second, while life may be fragile, your grill doesn't have to be. For the past 138 years, Goldens' Foundry & Machine Company has cast the parts that have helped build America. The Goldens' Cast Iron Cooker will bring your family together for generations to come.
Join the Iron Age!
It all starts with our Goldens' Cast Iron family of Products!