All Weights Under 50LB Bundle
$1,114.00
Work out with American made Goldens' Cast Iron Dumbbells and Kettlebells! 5, 10, 15, 20, 25, 30, 35, 40, 45, 50 pound dumbbells and an 8KG, 12KB, 16KB, 24KG  Kettlebells! Dumbbells are SOLD IN PAIRS and all weights are built to last a lifetime. Guaranteed to meet the highest demands of your workout routines!
Always In Stock!
Ships on a single pallete.
Request a personalized shipping quote at checkout.
DUMBBELLS SOLD IN PAIRS
KETTLEBELLS SOLD INDIVIDUALLY
SHIPS in 10-15 bus. days from order.
MADE IN THE USA!
High Quality Cast Iron
WHAT'S MY SHIPPING COST? Once you submit your request, we will send you a shipping quote, based on your address. That will trigger an email notification for you to complete the order if you choose. Allow us 24 hours to provide the quote. The price is good for 72 hours. Due to the weight of your order, it will be palletized to reduce shipping costs.

Specifications
DUMBBELLS:
Made in the USA from 100% Recycled American Steel. All Goldens' Cast Iron Dumbbells are produced at our foundry's and machine shops in Columbus and Cordele, Georgia.
Proprietary Ductile Cast Iron Blend – The best of ductile and gray iron properties.
Weight range: 5LB to 90LB
Tolerance: +/- 3%
Handle Diameter: 1.125″ (5LB-15LB), 1.25″ (20-50LB), 1.5″ (55 and above)
Handle width: 5″ (5LB – 50LB)
Finish: Black Semi-Gloss High Performance Coating
Smooth Sand Textured Grip for Comfort and Performance
KETTLEBELLS:
Made in the USA. We produce all Goldens' Cast Iron weights at our foundry and machine shops in Columbus and Cordele, Georgia.
Made from 100% Recycled American Steel
Material: Proprietary Ductile Cast Iron Blend – The best of ductile and gray iron properties
Finish: Black Semi-Gloss High Performance Coating
Surface: Smooth Sand Textured Grip for Comfort and Performance
Sizes: 8-20kg (18-44LBS). Larger 24, 28, 32 and 36kg to be released soon.
Handle Diameter: 8 kg (33mm) 12 kg -36 kg (34mm)
Window Height: 8 kg (6.1.33 mm) 12 kg (69.33mm) 16kg – 36 kg (57.15mm)
Tolerance: +/- 3%
Official USA Army Fitness Test Rated 40LB
Returns
Dumbbells, Kettlebells and Accessories: You may return any new and unused product for a full refund or equal exchange under certain specific conditions listed below. We will pay the return shipping, only on the first item you return, if conditions are met.  You are responsible for the return shipping for other items after the first, free returned item. To be eligible for a full refund of the product cost, you must notify us within 24 hours of the delivery of your product and meet the conditions below.
In the event that you receive a dumbbell or kettlebell which appears to be structurally damaged (bent, warped, or in some way affecting the structural integrity of the cast iron), we will work closely with you to evaluate it and get you what you need. Damage means specifically structural damage, not aesthetics, such as scrapes and scratches to the paint surface from shipping. The cast iron is extremely durable and can easily be touched up with Rust-oleum or an equivalent.
Any claims for defects or damage must be submitted to Goldens' Cast Iron within 24 hours of your receipt of the product. Please email pictures of the defect to us at info@goldenscastiron.com so that we can evaluate and resolve the problem. No returns on full kettlebell and dumbbell bundles, unless there is 100% catastrophic damage of the entire bundle. Consideration is only given to evaluate damage to an individual weight within those bundles.
Our Goldens' Cast Iron Dumbbells are made from the highest quality American-made Ductile Cast Iron Blend – The best of ductile and gray iron properties. Goldens' Foundry has been producing large industrial cast iron products for companies all over the world since 1882. Now you can enjoy our top quality durable, cast iron dumbbells. Buy a pair or get the full line to complete your in-home gym or fitness center!
I only got part of my order. Why?
No worries! Even though you purchased as a pair or pairs, it's normal to see separate shipment. Each weight is shipped separately and usually tracked separately and at different times. Only our 5, 10 and 15 pound dumbbells are shipped and tracked together!
Some of our heavier items are packaged separately. So even though we usually give FedEx everything at the same time, items can get separated on their journey. Don't let this worry you. They were meant to be with you!
My weights are scratched. What should I do?
No problem. You can read our return policy here! https://www.goldenscastiron.com/returns/
Keep in mind that our weights are an old school design so all those tiny surface imperfections are there for affect. Once shipped, some journeys from our foundry to our customers are a little rougher than others. If your weights have structural damage, take pictures and send them to info@goldenscastiron.com.
For minor cosmetic blemishes, they are easy to touch up with a black paint pen. We recommend PRO-LINE HP is a liquid paint marker.  Shop Walmart. Shop Home Depot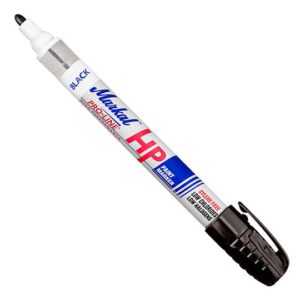 PRO-LINE HP is a liquid paint marker developed for superior marking performance on oily and greasy surfaces. The high performance paint penetrates through oils and greases to dry quickly and leave a bold, permanent mark that is wear, weather, and fade-resistant.
Repainting your weights: If you want to completely repaint your weights, we recommend Rustoleum High Performance Enamel Gloss Black Spray Paint.
We want you to be totally happy with your purchase from Goldens' Cast Iron, so if you have any questions after reading the returns policy, please give us a call or email us at info@goldenscastiron.com!
I didn't get an order or tracking email. Why?
Before you contact us, check your spam folder. We here at Goldens' Cast Iron consider our messages to be Grade A 100% Prime! But sometimes your email mistakes it for spam!
If it's not in spam, call us 800.328.8379 or DM us on Facebook or Instagram. We will verify your email address and re-send your order confirmation email.
As for your shipping email, which will be a separate email, check your spam folder again. If you do not yet have a shipping email and it's not in spam, then that means that your product has not yet shipped from our facility. Patience, Grasshopper.
What forms of payment do you accept?
We accept Visa, MasterCard and Paypal. We do not process orders over the phone. You must order online first!
Can I pick up my order and save on shipping?
If you want to pick up from our foundry in Columbus, Georgia, then you certainly can! Just order online. If you live in Columbus, GA and surrounding areas, just type in your address. If your zip does not work, then type "local pickup" as your address, then Columbus, GA 31901, then select "local pickup" to waive shipping! That's it! Remember, no need to call! We're filling orders daily so we will contact you via email as soon as your order is ready for pickup. We won't have your order ready until we contact you!
Why is shipping so expensive? Why not free shipping?
We understand your frustration. We ask the FedEx folks that same question every time they leave our loading dock with thousands of pounds of American made cast iron on the way to our customers. (When we ask, they just look at us and shake their head.)
Cast iron is heavy, and shipping companies set rates based on weight and distance. As for free shipping, we've all been conditioned to expect free shipping and low cost import pricing. We could provide "free" shipping, but that cost would get pushed into the product price. That said, we are working hard to lower those shipping costs. We appreciate your order and your referral.
Are there any discounts? Coupon Codes?
Not at the moment. We are working to hold our prices as low as possible. The great news is that in the future, subscribers to our mailing list will receive discount coupons and sales promotions! These will be open only to members of the Goldens' Cast Iron mailing list family! Make sure you join today. Just go to goldenscastiron.com, scroll to the bottom of any page and just below the logo, there is a sign in area. Just sign up and you're good to go!
Can I change my order?
If your order hasn't shipped, the answer is Yes.
It's possible to change addresses, phone numbers, emails, etc. If you discover that you've made a mistake, the order can be corrected…if the order has not been shipped.
If you wish to add to or change items on an unshipped order, it is generally best for us to cancel your pending order and allow you to make a completely new order.
Are dumbbells sold in pairs?
Yes! When you select (1), that means 1 "pair" of dumbbells! If you select (3), that means you are ordering 3 "pairs" of dumbbells! Just go here and get started!
How can I calculate shipping before I purchase?
That's easy!
Just select kettlebells or dumbells. Then select weight the quantity you want to buy.
Select "Add to Cart". The next page will confirm your selection. Just advance to "Proceed to Checkout". Once there, fill out name, street, state and zip to get so that we can calculate your shipping cost. The page will update as you enter your address information. This all happens before your submit your payment!
If you're happy with your selection and price, then select your preferred payment option (Paypal or credit card). That will trigger a confirmation email to the email address you have provided. That information will contain your order confirmation.
Is Goldens' Cast Iron real?
We are so real!  We've been pouring iron and creating jobs in Georgia since 1882! Goldens' Cast Iron is the consumer division of Goldens' Foundry and Machine Company, GFMCO.com We are a 5th generation family-owned company that has been making castings for tractors, textile mills, syrup makers, WWII Liberty ships, oil rigs, trains, trucks, food mixers, knitting mills, excavators, and many many more applications and industries. Goldens' Cast Iron began several years ago making the best kamado cooker and fire pits on the market. Now we're making top quality American made dumbbells and kettlebells! So yes, we are real! Still not sure? Just Google "Goldens' Cast Iron"! We're everywhere!
Work out. Grill out. Chill out. Goldens' Cast Iron offers quality American-made cast iron kamados, syrup kettle fire pits, kettlebells and dumbbells that last for generations! Welcome to the Iron Age!